Also known as Whit Sunday, this day celebrates the coming of the Holy Spirit to the disciples in an upper room in Jerusalem. Pentecost coincides with the Jewish Holiday of Shavuot which is one of the three biblically based pilgrimage holidays known as the shalosh regalim. It is associated with the grain harvest in the Torah.
The word Pentecost refers to the number 50 and it is held 50 days after Easter (7th Sunday)
In the Pentecost account in the book of Acts the Spirit manifested as a wind in a closed room and tongues of fire on the heads of those present in the room.
How do we celebrate Pentecost online? I am not sure what tomorrows service will look like, or what the message focusses on, but members of the congregation have been asked to contribute photos of ourselves wearing our most colourful outfits to be displayed in the service.
Not having looked at my emails early enough, I missed the deadline but my photo was happily received as this will be an ongoing project.
So, for what it worth, here I am in our back yard, with the Japanese maple tree dressed in its Autumn foliage and me in the most colourful and most exotic outfit I could cobble together. This, I assure you, is a long way from my usual rather sober appearance and also quite different from the English Protestant tradition of wearing white for Whit Sunday. Still, I think some colour is a good idea during this time of social isolation and social distancing.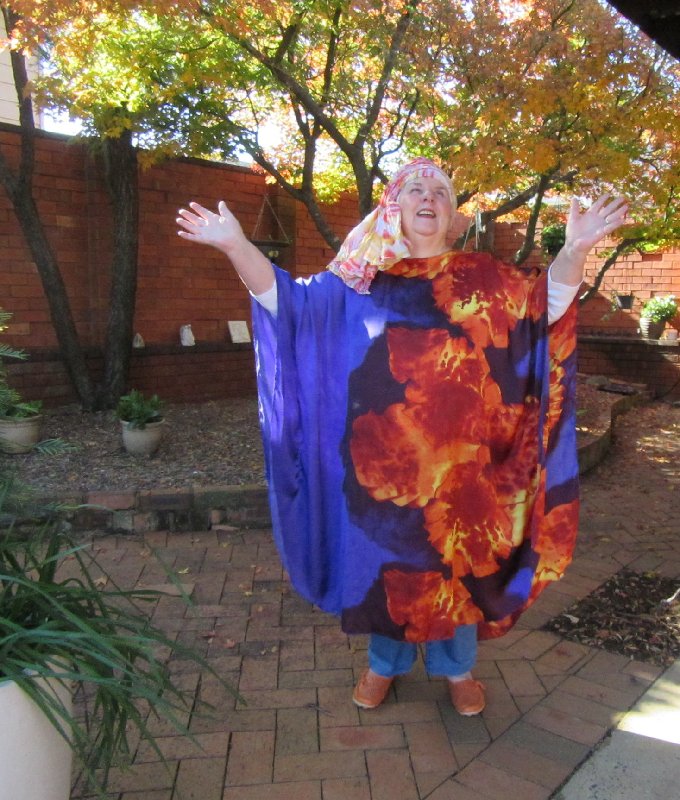 May Pentecost Sunday this year be a time of new beginnings for us all as we struggle with the ongoing effects of COVID-19